Ontario Mining Infographics
Every picture tells a story, but for a sector as complex and fascinating as mining, sometimes it takes a clever combination of words and pictures to make aspects of our story easily understandable at a glance.
Every stage and aspect of the mining process is governed by comprehensive regulations. A stringent regulatory environment, combined with the industry's commitment to responsible practices and proactive approach to using new technologies, ensures that public health, public safety and the environment are protected.
Our association is committed to working with governments and other partners to modernize Ontario's complex regulatory landscape, eliminating duplication and decreasing administrative burden, while enhancing predictability, efficiency and certainty for business planning. The goal is create a system encourages investment, fosters responsible mineral development, builds positive relationships and boosts innovation, without compromising the environment or worker health and safety.
Please note that the permitting infographic is intended for general illustrative purposes and shows the permitting landscape for a representative Ontario mine as of June 2020. Permitting for each mining project varies based on potential impacts. Please refer to government websites for current permitting requirements.
The ultimate goal for any Ontario mining company is to achieve a zero-incident work environment. Over the years, we have built a strong culture of health, safety and collaboration, which continues to deliver positive results in the workplace for mining workers. The evolution of mining is rooted in the belief that any workplace injury is preventable and that every worker has the right to return home safely to their family each night.
Mining's value is not limited solely to the resources it extracts from the ground. Check out these infographics to learn more: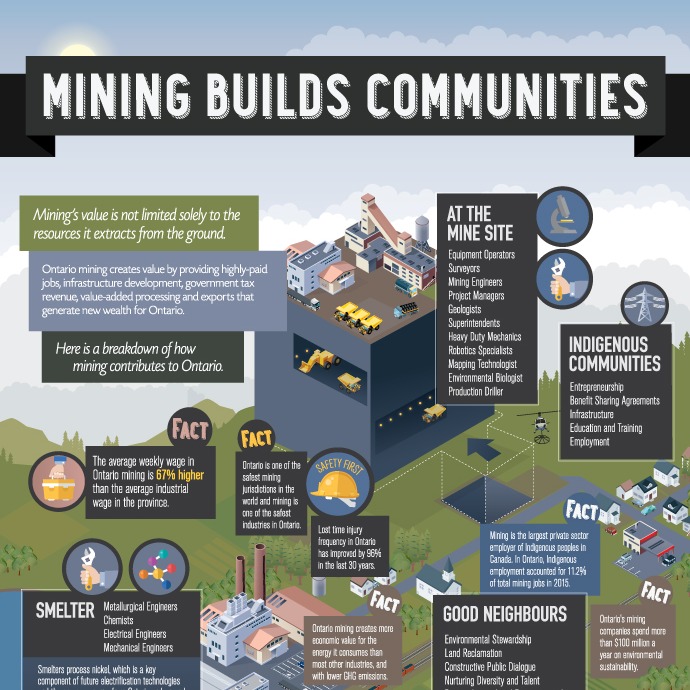 Mining Builds Communities
Mining creates value by providing highly-paid jobs, versatile careers, infrastructure development, government tax revenue, and by leveraging Ontario's competitive advantages for international trade.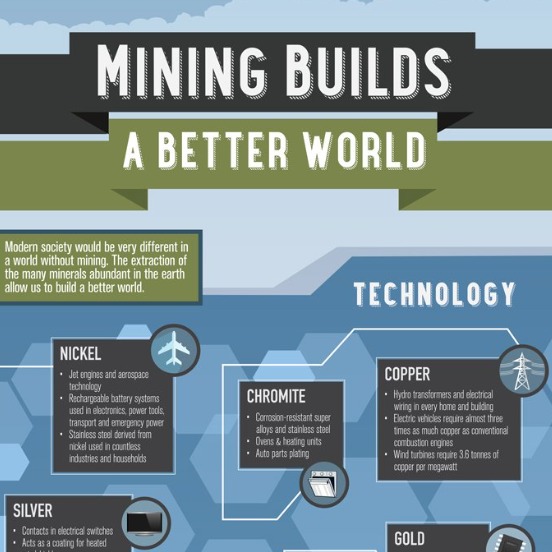 Mining Builds a Better World
Did you know that minerals and metals are essential, irreplaceable components of modern technology? Mining makes countless products we use everyday possible and it is integral to the next-generation technologies that will make our world greener, safer, healthier and more connected.
Mining in Ontario: A Dependable Engine of Growth