Mining is a key contributor to the Ontario economy, as well as an engine for regional development and value-add generation. Though the number fluctuates with various commodity price changes, mining in Ontario produces revenues of around $10 billion per year.
In 2022, Ontario's mining sector produced $13.5 billion worth of minerals, which accounted for 22% of Canada's total production value. In 2021, mining in Ontario directly contributed an estimated annual total of $8.0 billion to gross domestic product (GDP), $2.9 billion in wages and salaries. Mining in Ontario supports approximately 31,000 jobs directly and 47,000 jobs associated with mineral processing and mining supply and services. Approximately 77% of Ontario's mining company GDP contributions stay inside Ontario.
Mining companies across Ontario play an important role in the local communities where they operate and contribute to the economic and social wellbeing by prioritizing local hiring and procurement, supporting health and education initiatives, and engaging and partnering with Indigenous communities.
In 2022, mining direct employment in Ontario totaled approximately 31,000, with approximately $4.3 billion paid in total worker compensation.
The average weekly wage in the Ontario for mining and quarrying jobs is over 63% higher than the average industrial wage in the province, with mining and quarrying workers earning $1,951 weekly in 2022.
44% of supplies, materials and services were procured locally from companies across Ontario.
The mining industry contributed a total of $373 million in taxes to all three levels of government in 2019.
Ontario's mining sector has one of the highest proportions of Indigenous workers of all industries in the province, at 9%, more than triple the percentage of the province's population that identifies as Indigenous according to the 2021 census data.
As of 2020, there are 142 active agreements in place between Indigenous communities and mining companies in Ontario that formalize mutually beneficial relationships.
The impact of mining goes beyond mineral extraction and processing. Mining is linked to many other industries and sectors in the economy, including transportation, construction, equipment manufacturing, environmental management, geological services, education and research, among others. The industry provides a major boost to our financial sector: the Toronto Stock Exchange (TSX) is the leading global mining exchange, listing more of the world's public mining companies and raising more mining equity capital than any other exchange.
A 2022 economic research report produced by the Ontario Mining Association in partnership with Ontario's Ministry of Northern Development, Mines, Natural Resources and Forestry, State of the Ontario Mining Sector, forecasts that the GDP contribution from the mining industry in Ontario will grow 25% between 2020 and 2025, from an estimated total direct contribution of $7.5 billion in 2019 to an expected $9.3 billion by 2025. The value of minerals produced by major mines in Ontario is also expected to grow by 33% and the number of full-time equivalent jobs sustained directly, indirectly and induced by mining will grow by almost 7%.
For in-depth information on the current value of mining in Ontario, and to learn about areas of opportunity to futureproof the sector, solidify competitive advantages, and enhance the security and resilience of local supply chains, read the full report.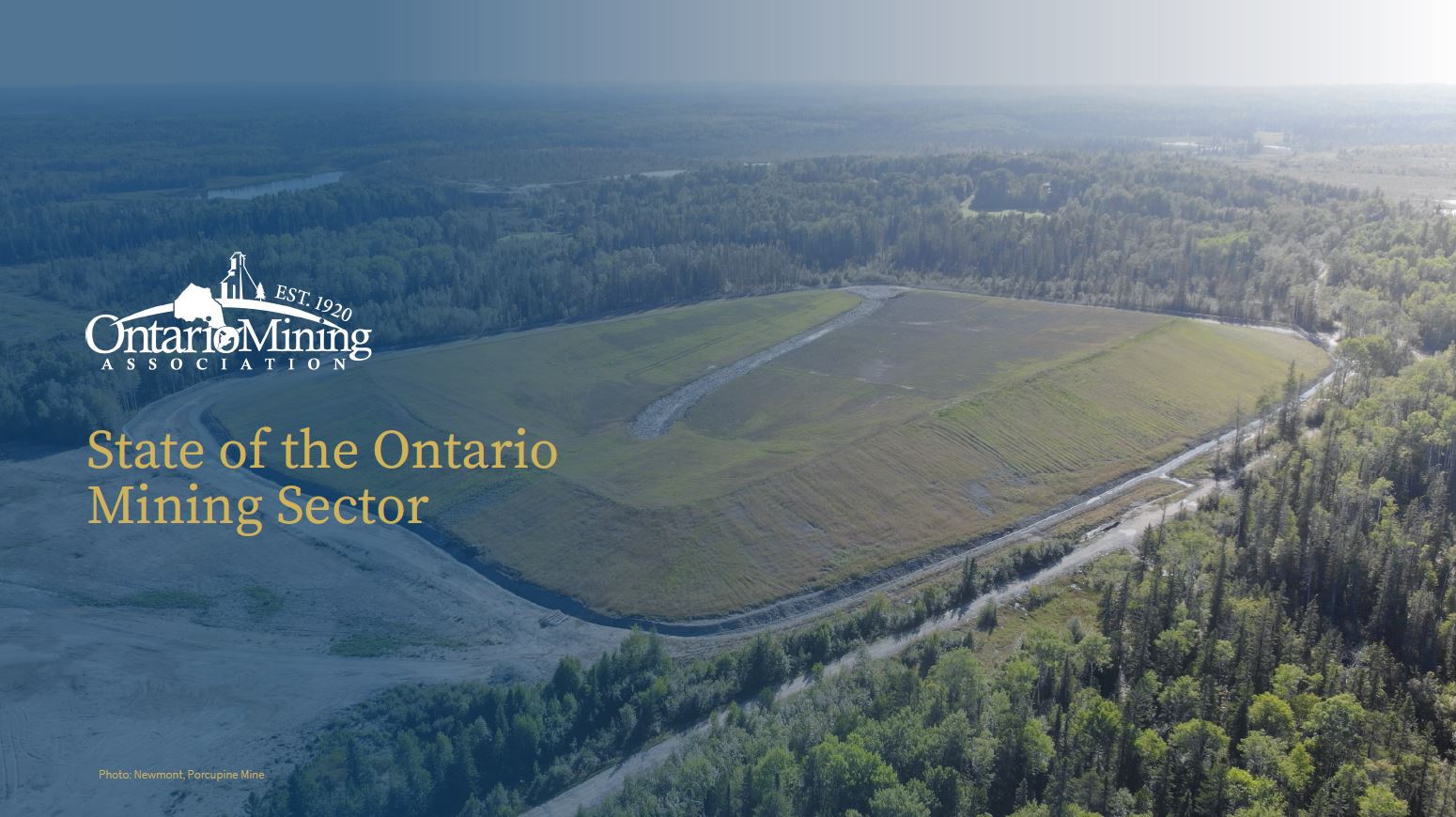 The OMA Critical Mineral Analysis, outlines on a global scale several competitive advantages of Ontario's mining sector, including strong mineral endowment and exploration potential, and the ability to contribute to the transition to the green economy. We believe that the province can leverage its endowment to become one of the leading global suppliers of certain critical materials to other jurisdictions whose advanced manufacturing sectors are reliant on imports.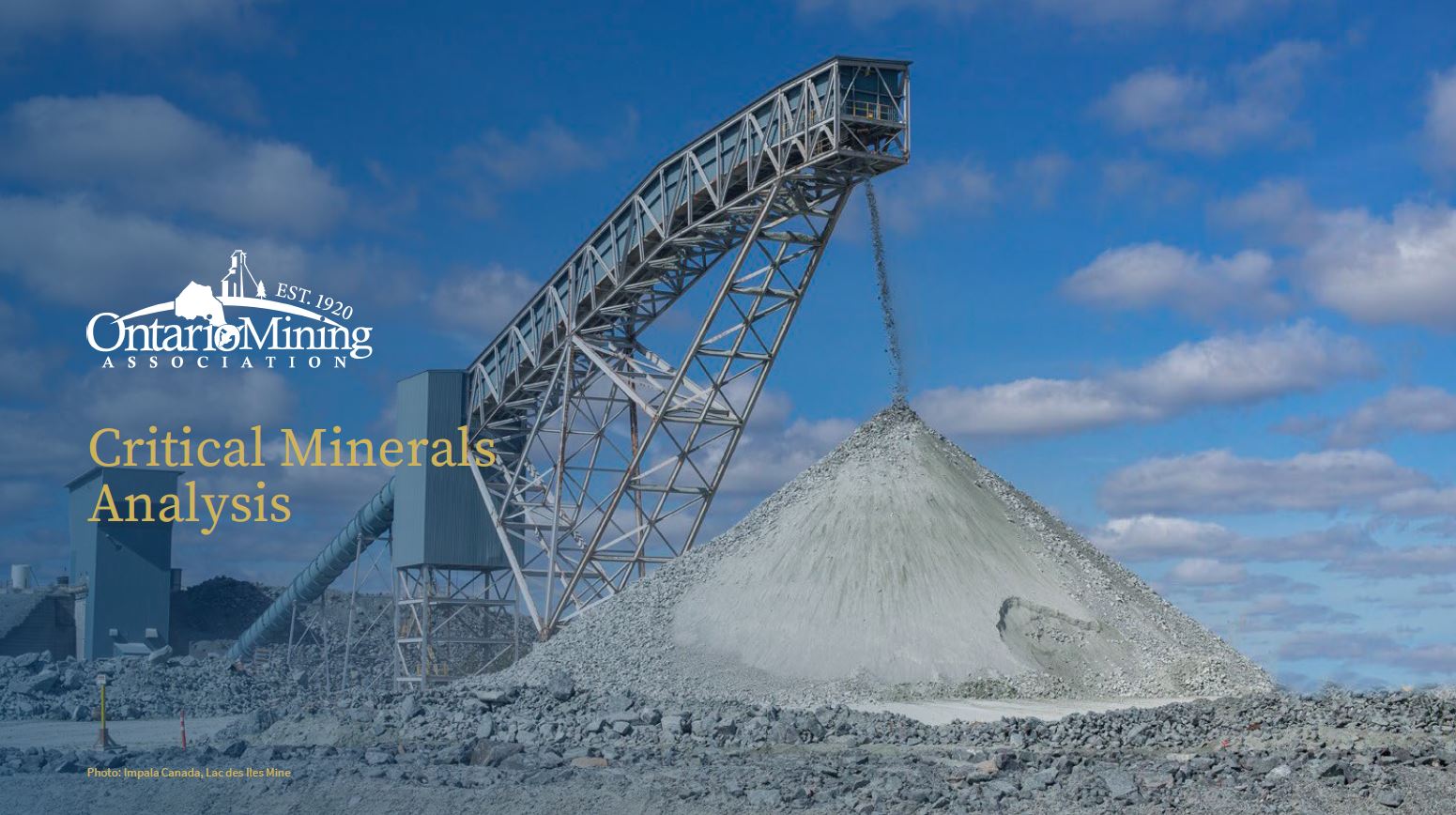 Diverse mineral endowment is possibly Ontario's strongest competitive advantage:
Of the 30 minerals included on Ontario's critical minerals list, eight are currently produced and/or processed through 11 processing facilities in the province.
Ontario is also home to a considerable proportion of critical mineral reserves in Canada, with over half the platinum group elements (PGE) reserves; more than a third of nickel reserves, and 13% of graphite reserves - two key minerals used in EV batteries.
Ontario's abundant geology provides various exploration opportunities for critical minerals, with current advanced mineral exploration projects in nickel, copper, cobalt, PGE, barite, chromite, graphite, lithium, magnesium, and niobium.
With 31 critical mineral projects in Ontario currently at advanced stages, the exploration intensity in Ontario is on par with that of Quebec and is significantly higher than that of the US and Australia.
The policy and business climate in Ontario makes the province one of the few sustainable and politically stable critical minerals suppliers. Ontario's critical mineral production and exploration pipeline is expected to support the development of renewable and advanced manufacturing technologies, providing opportunities for mining companies operating in Ontario to sell their products to growing global markets, including the US and the EU. It will also supply local needs from downstream industries and contribute to the growing domestic advanced manufacturing clusters, including automotive and mobility, as well as aerospace and defence.
Every new mine makes a difference to our economic wellbeing. A University of Toronto study, commissioned by the OMA and produced with the support of the Ministry of Northern Development, Mines, Natural Resources and Forestry, shows that the benefits from opening just one new gold mine include more than $102 million in tax revenue for all levels of government annually, the creation of a large number of highly skilled, high paying jobs, enhancements to Ontario's GDP, gains in the province's trade balance, support for infrastructure development, and more opportunities for Indigenous Canadians.