Meet the Miners 2020 Highlights the Role of Mining as an Essential Industry Critical to Ontario's Economic Revival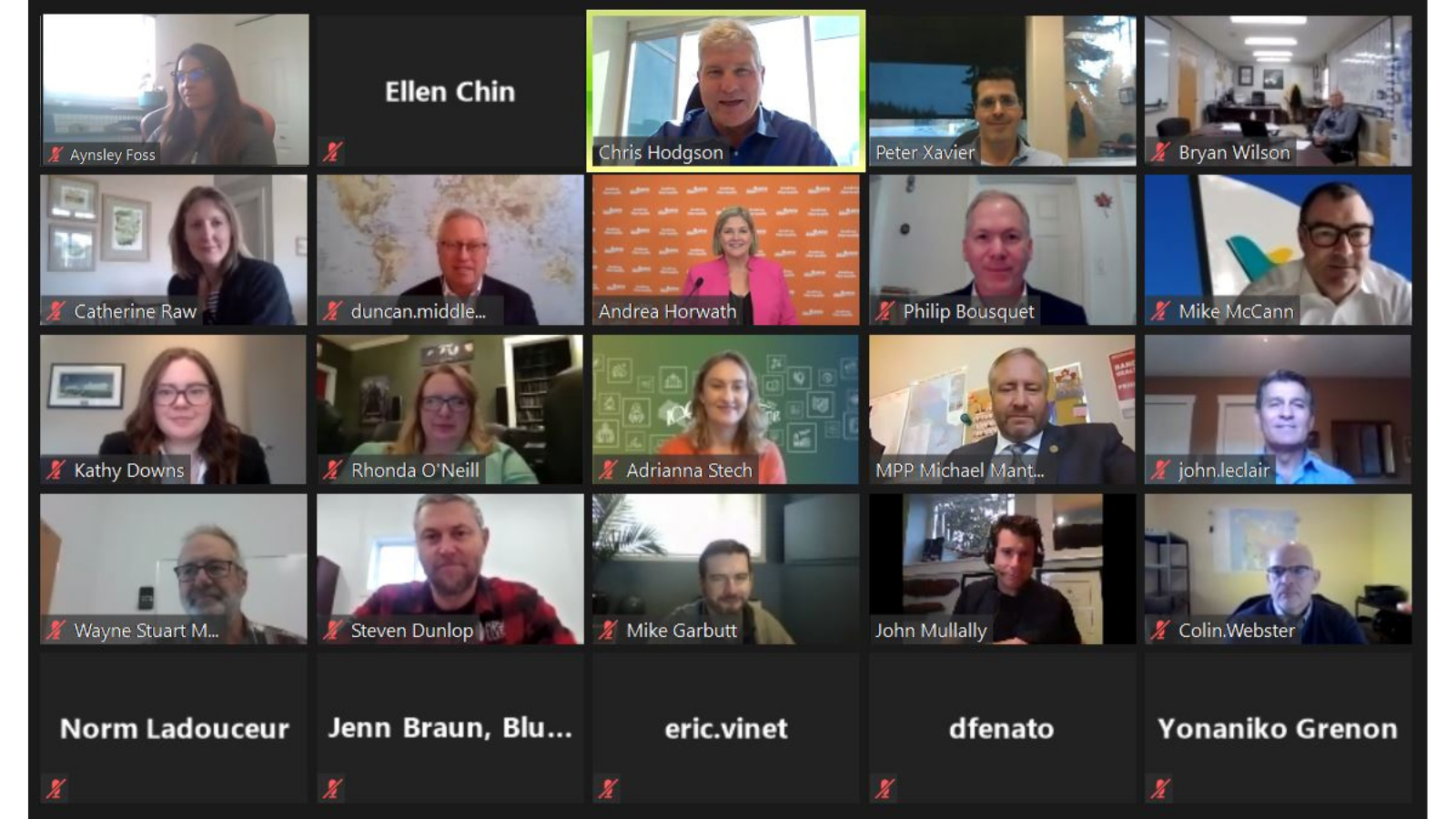 Ontario Mining Association's 2020 centennial proved to be a challenging year, which has profoundly changed the way we live and work. Like everyone else, our association has made changes to adapt during this unprecedented period, postponing, rescheduling or moving events online. Thus, on October 28, 2020, our annual Meet the Miners at Queen's Park event was transformed into a digital experience.
Meet the Miners is an opportunity for industry leaders to meet with provincial policy-makers to share achievements, and to discuss issues of consequence to the industry and Ontarians. Meet the Miners gives members of the Legislative Assembly and senior mining executives a platform to exchange ideas, which help drive progress and strengthen Ontario's mining sector, while delivering real benefits to the people in this province. This year's event attracted over 50 attendees and featured addresses by Greg Rickford, Minister of Energy, Northern Development and Mines, Minister of Indigenous Affairs; Steven Del Duca, Leader of the Ontario Liberal Party; and Andrea Horwath, Leader of the Official Opposition in Ontario and Leader of the Ontario New Democratic Party. Andrea Horwath was joined by MPP Michael Mantha, Caucus Chair, and Critic, Northern Development and Mines.
"Although Meet the Miners is virtual this year, it is as important as ever for building relationships and discussing a united way forward to build a stronger economy and support emerging technologies that are minerals-intensive and reliant on responsible mining," said Peter Xavier, Vice President of Glencore's Sudbury Integrated Nickel Operations and Chair of the OMA Board of Directors. "The COVID-19 pandemic has brought into sharp focus just how indispensable mining is for our response to, and recovery from, this crisis."
As an industry providing the materials that are the front end of our healthcare, manufacturing and supply chains, mining was deemed essential by the province, operating throughout the COVID-19 pandemic – sustaining northern economies and keeping people across the province employed (the mining industry creates 26,000 direct jobs and approximately another 46,000 indirect jobs in mineral processing and mining supply and services in Ontario – learn more). This presented the industry with a challenge: the needed to balance our economic responsibilities with the imperative to keep our people and communities safe.
"The way Ontario miners responded to the pandemic is a testament to the strength of our health and safety culture, our people's expertise and capacity to innovate," said Chris Hodgson, OMA President. "It has been impressive to watch just how quickly our member companies adapted their existing protocols, tapping into knowledge from other jurisdictions and learning from each other. Throughout, our association has served as a hub of information sharing, conducting research and facilitating important exchanges. We believe that this collaboration contributed to Ontario miners being ahead of the curve on pandemic preparedness and prevention."
In his address to OMA members, Minister Rickford recognized the sector's "rapid and compassionate response to the pandemic," and noted Ontario miners' "commitment to protecting the health and safety of workers, families and communities." He acknowledged the essential nature of the mining industry and expressed confidence that "Ontario will continue to take our rightful place as a leading jurisdiction for global mining innovation and investment – helping to fuel our economic recovery while supplying the world with critical minerals that will power the technology of tomorrow." He pointed out that Ontario is getting a lot of global attention as a destination for critical minerals, and as a jurisdiction with "world-class environmental standards, world-class relationships with indigenous communities… and a world-class supply chain." When it comes to responsible mining, Minister Rickford appealed to our global partners to, "get with the times – get with Ontario!"
Liberal leader, Steven Del Duca, reiterated Minister Rickford's point about the mining sector's response to the pandemic, calling it "remarkable," and congratulating the industry on the "speed with which you were able to make the transition to make sure that the industry – your members, your employees and their families – were in a position to continue to work, and do it safely." The leader talked about the Liberal Party's efforts to develop its platform and solicited input from OMA members, stressing the importance of partnerships and dialogue in building a way forward for the province. He also talked about the need to "recognize how much of a centre Toronto is on the financing side for the industry, the number of people who are employed directly and indirectly, the critical minerals that go into so much of what every single one of the 15 million people who call our province home rely upon in their day-to-day lives," stressing the need for government to step up efforts to inform the public about the criticality of the mining sector and making people "feel like they are part of the discussion."
Andrea Horwath thanked the OMA for helping to expand her knowledge of the vital role that mining plays in Ontario's communities over the ten years in which she has served as leader of the NDP, and remarked on the association's centennial year: "One hundred years is an amazing anniversary, and I am really happy to say congratulations on all of the work you have been doing," adding that, "The Ontario Mining Association is a critical voice for the sector, and for the economic needs of many of our communities… Now, more than ever, as the pandemic continues to threaten the lives, livelihoods and future of so many Ontarians, your work advocating for infrastructure, good-paying jobs, economic growth, and a healthy, collaborative working relationship with First Nations, is so very important. You are central in how we will successfully weather the rest of this storm, recover and build." Michael Mantha expanded on the value of mining, pointing out that, "The mining industry has been leading the way with new green technologies, new green ideas, innovations… and new jobs." To enable mining to keep people employed and put Ontario "on a strong footing", however, Andrea Horwath stressed that it is important to invest in the sector, including "relieving the sky-high hydro prices."
Improving energy pricing and making Ontario more competitive with other jurisdictions was a theme that ran through the question and answer sessions with each of the presenters. Electricity rates are a key impediment to the competitiveness of mining in Ontario. High power costs reduce mine life, decrease flexibility with regards to new developments and may lead to value-added processing relocating elsewhere. Competitive long-term energy prices are the key to attracting capital investment and maximizing the value of Ontario's mineral resources. Forgoing the traditional reception in the interests of protecting public health, OMA Board members spent the afternoon in virtual meetings with the Premier's Office, the Ministry of Energy, Northern Development and Mines, and the Independent Electricity System Operator focused on solutions and creative approaches to maintaining Ontario's track record of reliability, while driving down energy prices. The discussion also considered conservation programs and an innovation roadmap that will leverage new technologies to create a more dynamic and efficient energy market.
Meet the Miners 2020 gave OMA members a chance to express their appreciation for the government's efforts to act in the best interest of Ontarians by not only addressing the COVID-19 public health crisis, but also its economic implications, with an eye to charting a course to recovery and growth. As we plan how to kickstart an economic revival after we emerge from the current crisis, it is important to keep in mind that mining is not just a provider of good, high-paying jobs; it is the foundation of our supply chains and integral to every sector in the economy, including the green-tech sectors. As the Prime Minister recently pointed out, the mining sector "will be crucial for a green recovery and will help drive the clean transition that we need," adding that, "from the nickel and cobalt that are used in electric vehicles and solar panels, the mining sector is really important in building a better future for us all."