Meet the Miners 2023: This Is Mine Life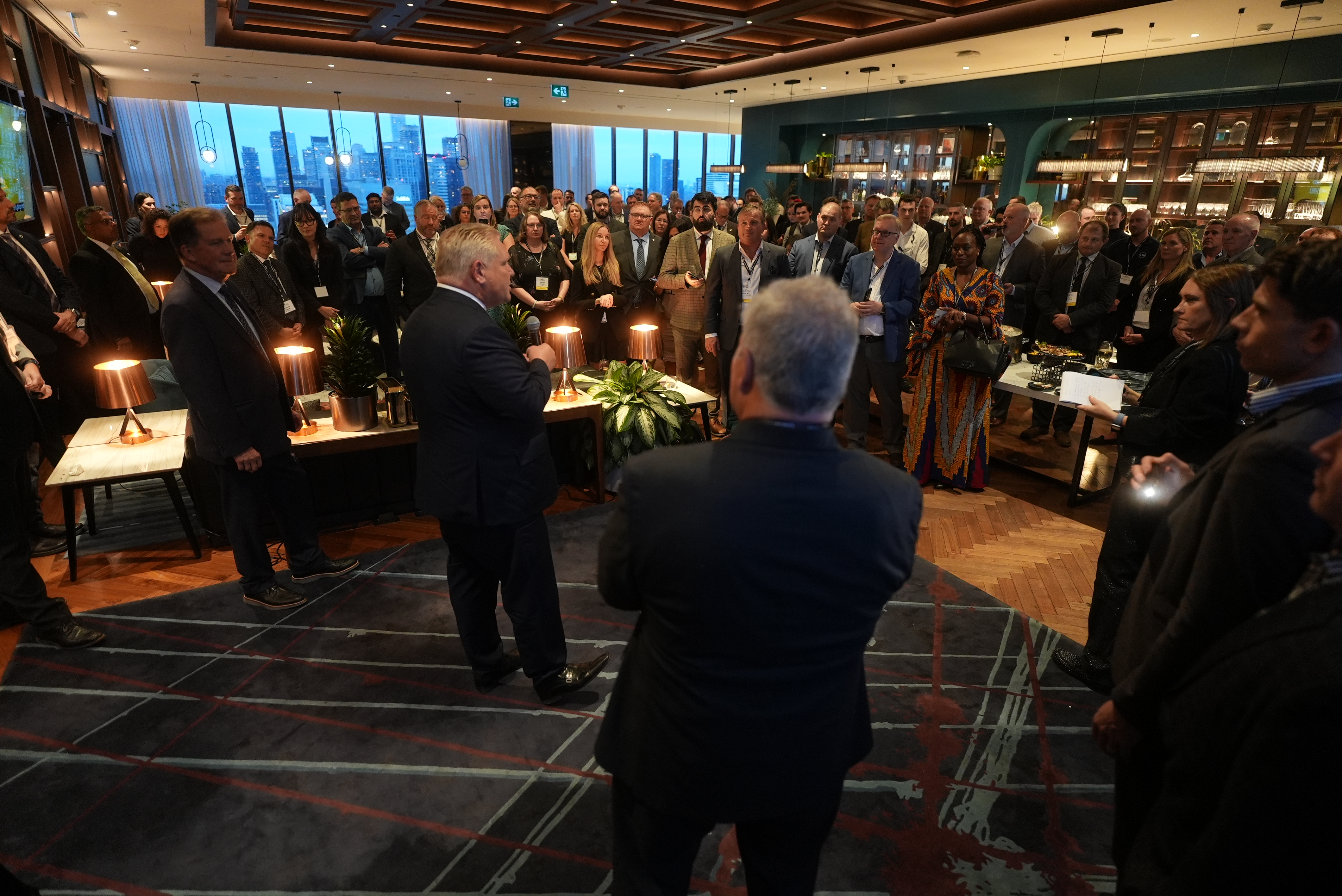 Mining in Ontario is more than just one thing. For OMA members, it is a life of new frontiers. A life of new technologies. A life of taking care of the world around us. A life boldly driving our modern world forward, by delivering the metals and minerals that make everything possible.
On October 25, 2023, the Ontario Mining Association (OMA) held
Meet the Miners
, an annual event at which industry leaders meet with provincial decision-makers to share achievements, and to discuss issues of consequence to the industry and Ontarians. For 45 years,
Meet the Miners
has offered members of the Legislative Assembly and senior mining executives a platform to learn from each other, build relationships, and celebrate our dynamic, innovative industry, which has long been an engine of growth in Ontario.
"The theme this year was closely linked to our This Is Mine Life campaign," said Frank Demers, Director of Ontario Mines at Vale, and Chair of the OMA Board of Directors. "We focused on giving our members opportunities to share their mine life stories and offer insights into what makes their work meaningful and consequential for society and the world." He added that, "It is very clear that there is a synergy between mining, clean technology and innovation. The minerals we mine are enabling the world to transition to a low carbon future, and they are also found in technologies that Ontario miners are using to transform the way we mine – continually improving efficiency and reliability, while reducing our environmental footprint. It was a privilege to learn about some of their latest achievements."
"We are grateful to everyone who participated in RockTalks, a newly-launched forum for OMA members to share their experience, expertise and passion with an audience of their peers – enabling our community to learn, be inspired, and engage with ideas that catalyse impact," said the OMA President, Chris Hodgson. He emphasised that, "We are also grateful to the Minister of Mines, George Pirie, who co-hosted Meet the Miners, and led important discussions on what is required to build a strong domestic mining-to-manufacturing supply chain, and ensure Ontario takes full advantage of current market opportunities and is a key player in the global energy transition."
Demand for responsibly mined minerals continues to grow worldwide, as the race to reach global net-zero emissions accelerates, and countries around the world respond to emerging geopolitical challenges by creating reliable supply chains for critical minerals, which are central inputs in our clean energy technologies, digital economy, defence systems, and more. For Ontario, this presents a once-in-a-lifetime opportunity to develop our abundant natural resources in a way that is environmentally sustainable and economically viable, becoming the global supplier of choice for critical minerals and clean technology. Discussions throughout the day considered priority areas that require collaborative action in order to capitalize on our potential to lead. These include:
Addressing energy capacity shortfalls and ensuring competitive, predictable cost of energy.
Advancing reconciliation and continuing to build strong, respectful relationships with Indigenous peoples.
Building an enabling regulatory environment to accelerate the transition to a green economy.
Creating education and career pathways to support a future-ready workforce and boost labour market participation in the mining sector.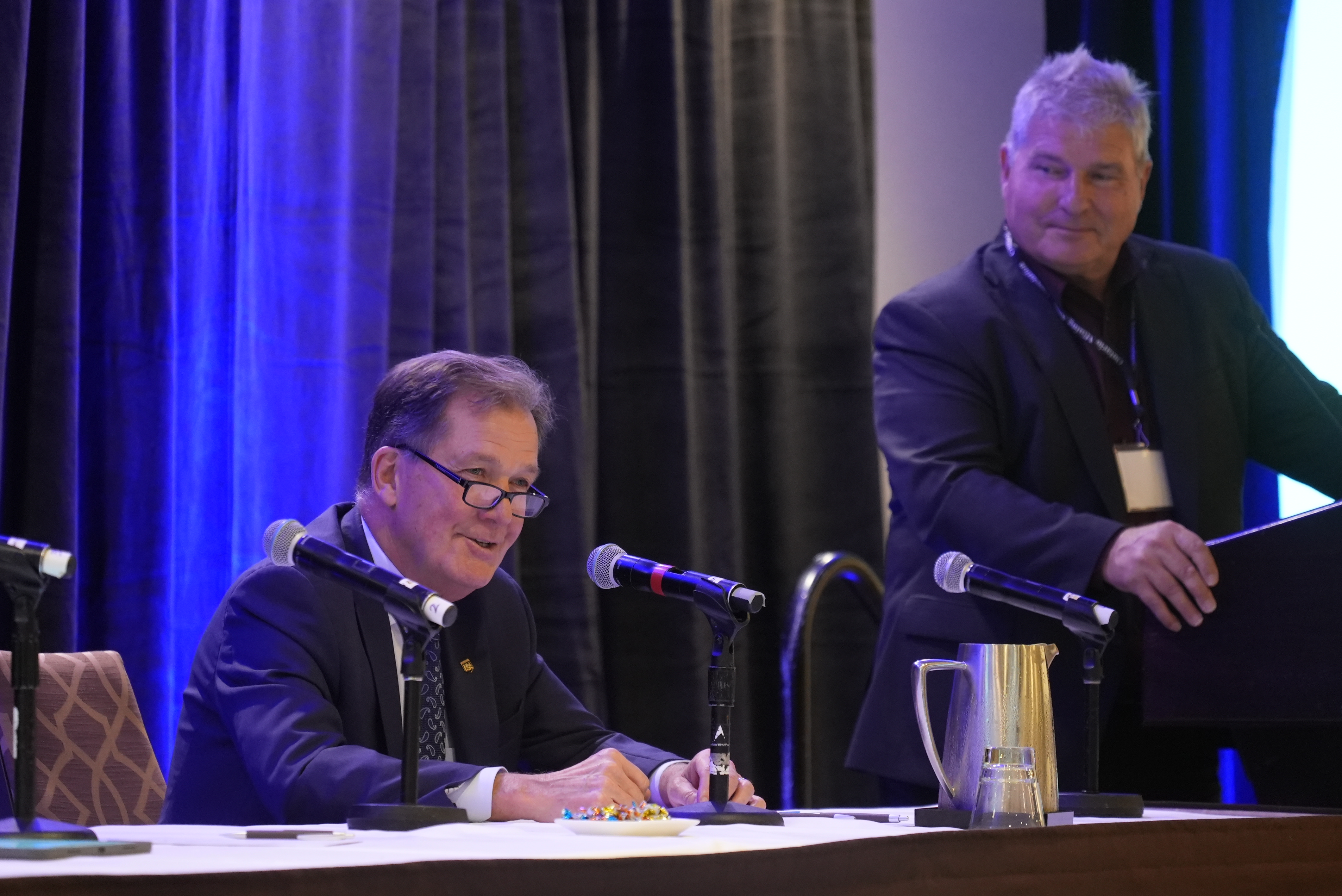 Minister George Pirie, Chris Hodgson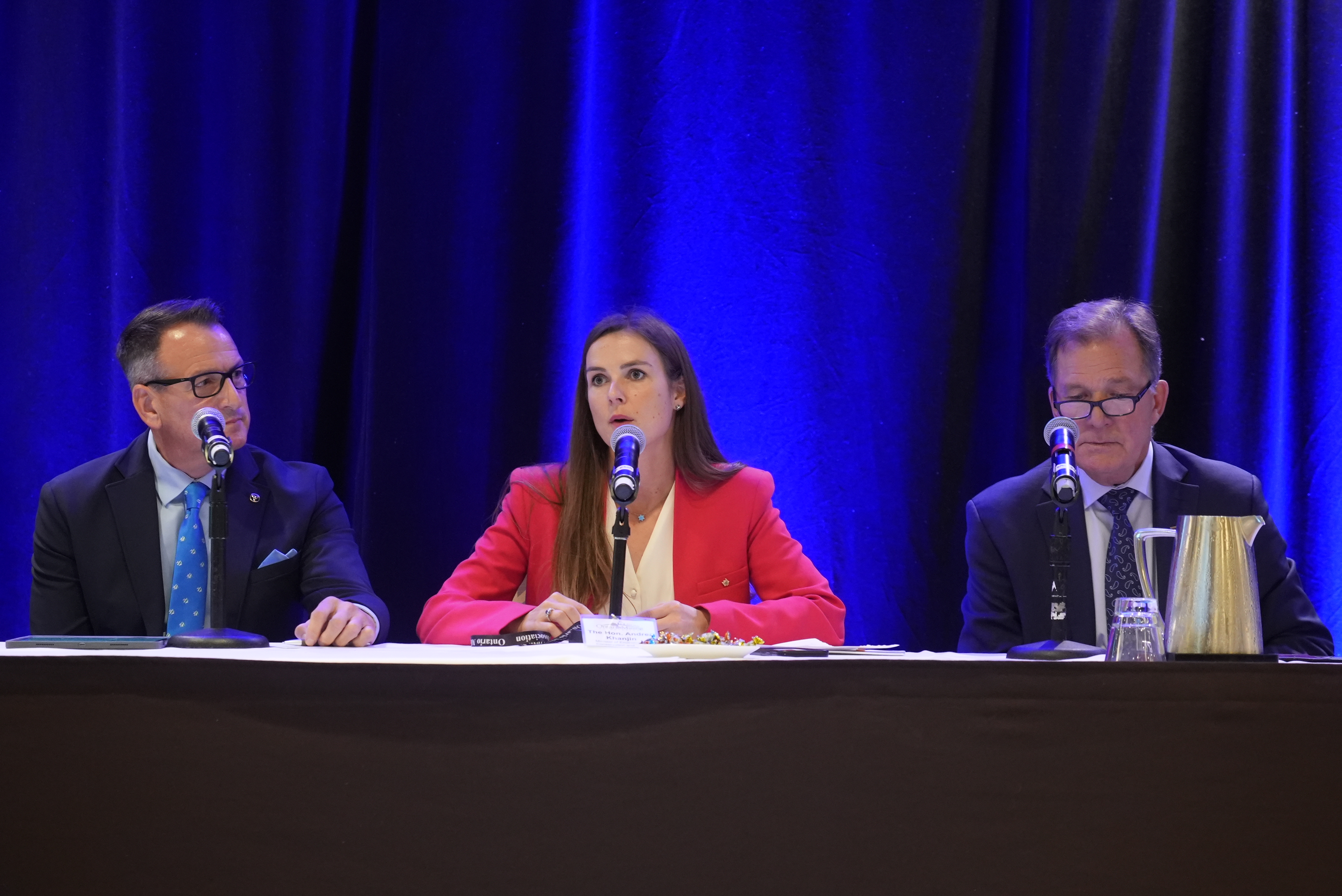 Minister Greg Rickford, Minister Andrea Khanjin, Minister George Pirie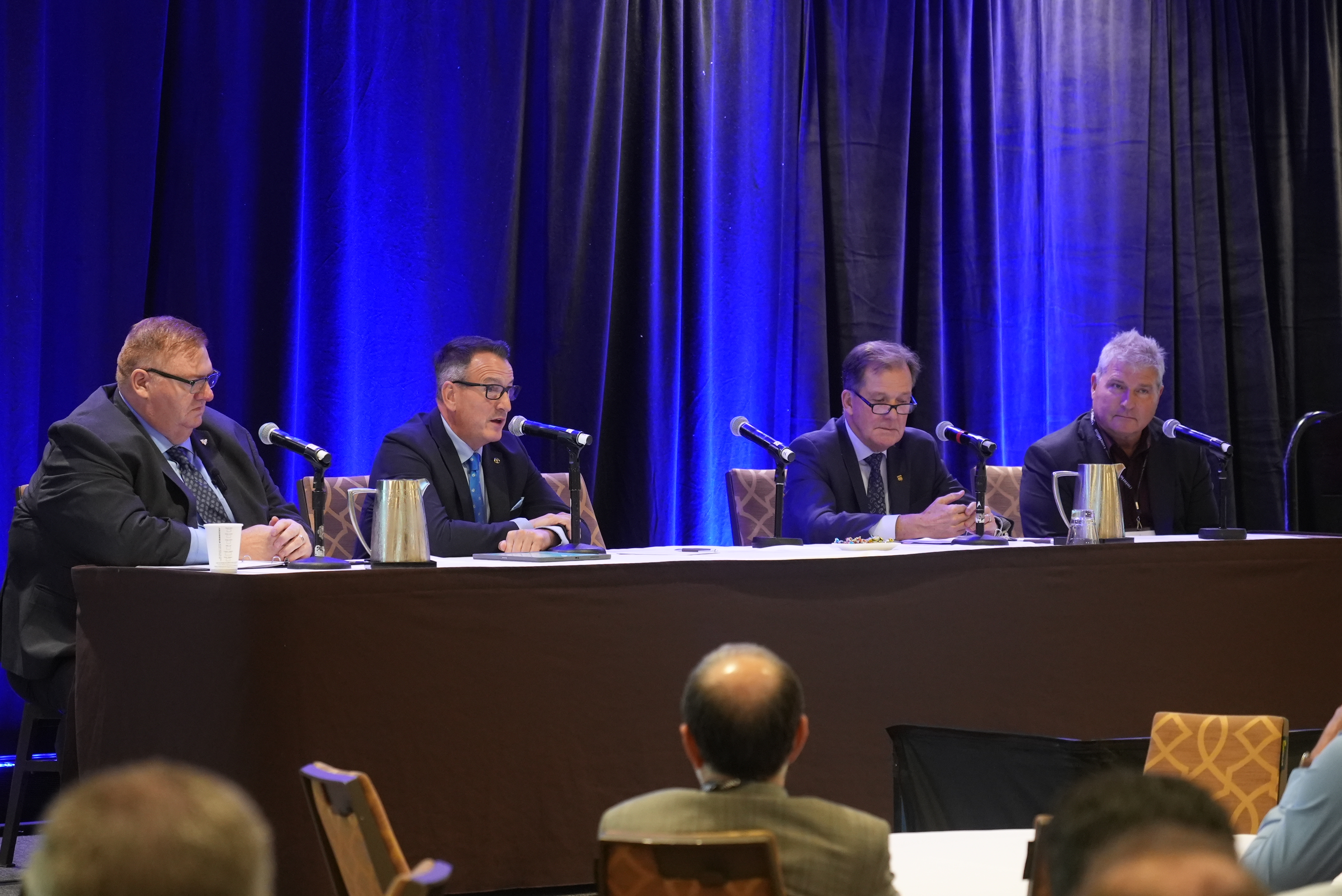 Minister Greydon Smith, Minister Greg Rickford, Minister George Pirie, Chris Hodgson
The day began with OMA Board members meeting with Minister Pirie, who praised the "effective relationship between the OMA and the Ministry of Mines." He acknowledged the efforts of Ministry of Mines staff, who are working collaboratively with the OMA on ensuring that "the pace of regulation flows at the pace of business." Frank Demers thanked Minister Pirie and his team for maintaining an open and intensive dialogue with the OMA, and for considering our input, along with that of other experts and stakeholders on how to achieve Ontario's Critical Minerals Strategy goals.
The RockTalks presentations delivered by OMA members offered various perspectives on the notion that a strong, sustainable mining industry requires a strong, sustainable workforce. Nishanthan Logeswaran of Alamos Gold talked about the company's creative approach to engaging youth in conversations about careers in mining. Alamos Gold pioneered a mine showcase, similar to 'speed-dating', at local high schools in Dubreuilville and Wawa. The program has been met with enthusiasm by students, teachers and principals, who love discovering opportunities to build rewarding careers and enjoy the lifestyle (and relatively low cost of living) available in their Northern Ontario communities. Eric Kohtakangas of Cementation offered an inspiring example of industry commitment to training and employment for our Indigenous community partners. His presentation described the new miner training success that Cementation, in collaboration with Big Grassy First Nation, has brought to an underground mine development and production project in northwestern Ontario. Glenn Nolan of Ring of Fire Metals addressed an important element of our industry's commitment to the health and safety of our people: ensuring mental health support extends beyond the property boundary to assist workers and their families, especially those dealing with generational trauma in Indigenous communities. Glen Watson of Vale talked about the sort of progress in environmental and socio-economic performance achieved by Ontario miners which imbues our work with a sense of purpose. His talk focused on Vale's work on novel, cost-effective methods to extract value from current waste materials, and thus strengthen the company's carbon reduction efforts and ESG performance.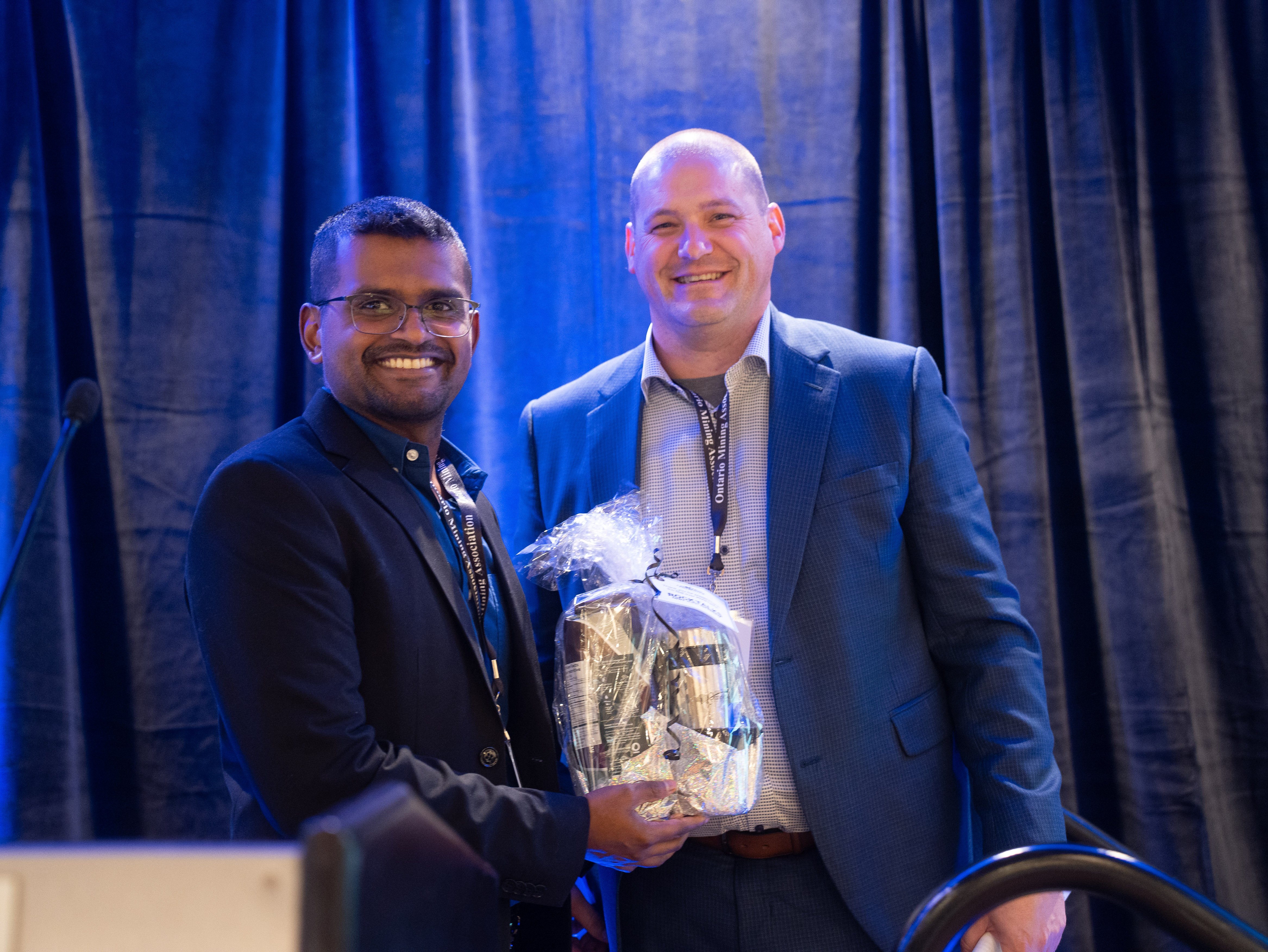 Nishanthan Logeswaran, Frank Demers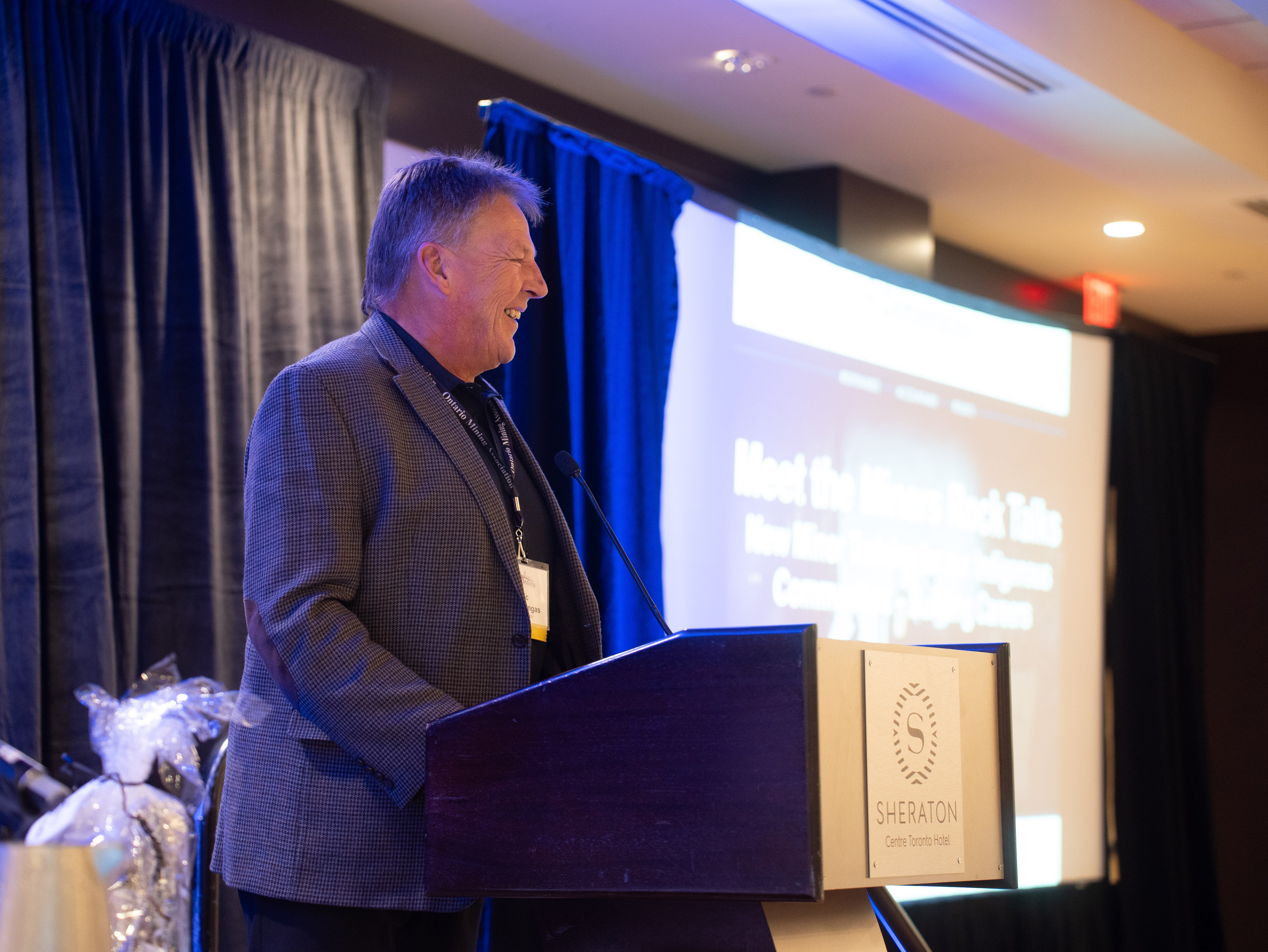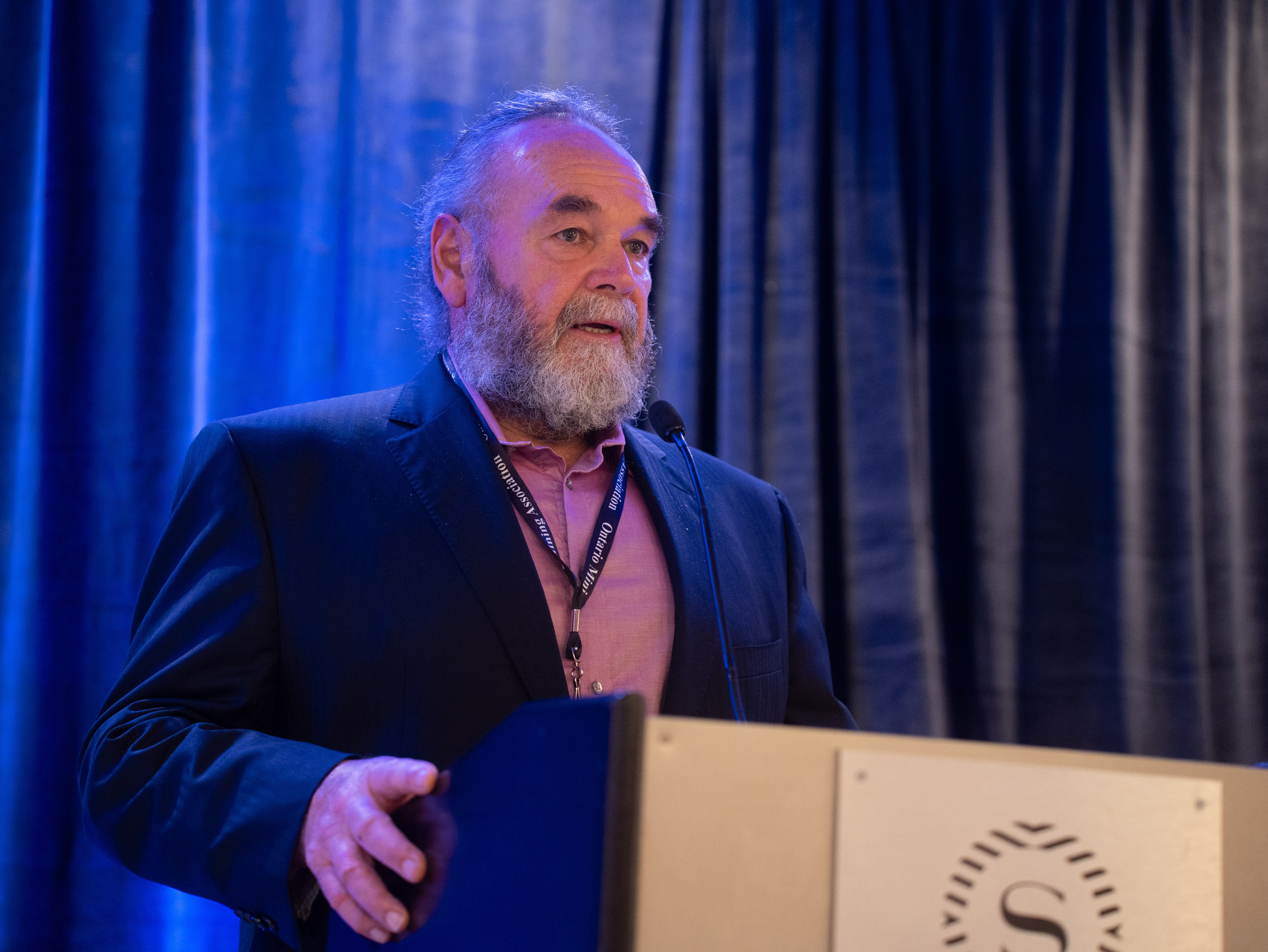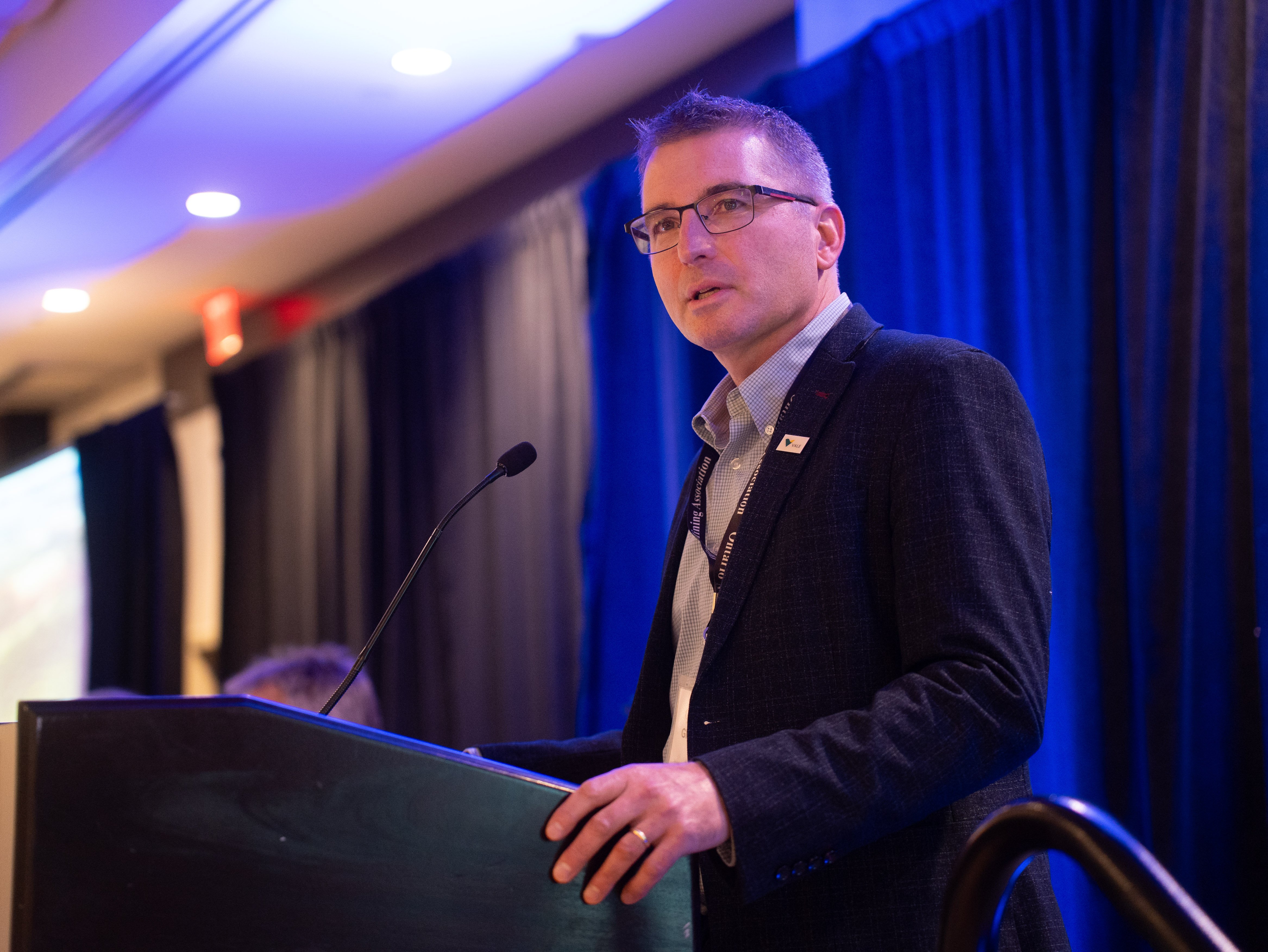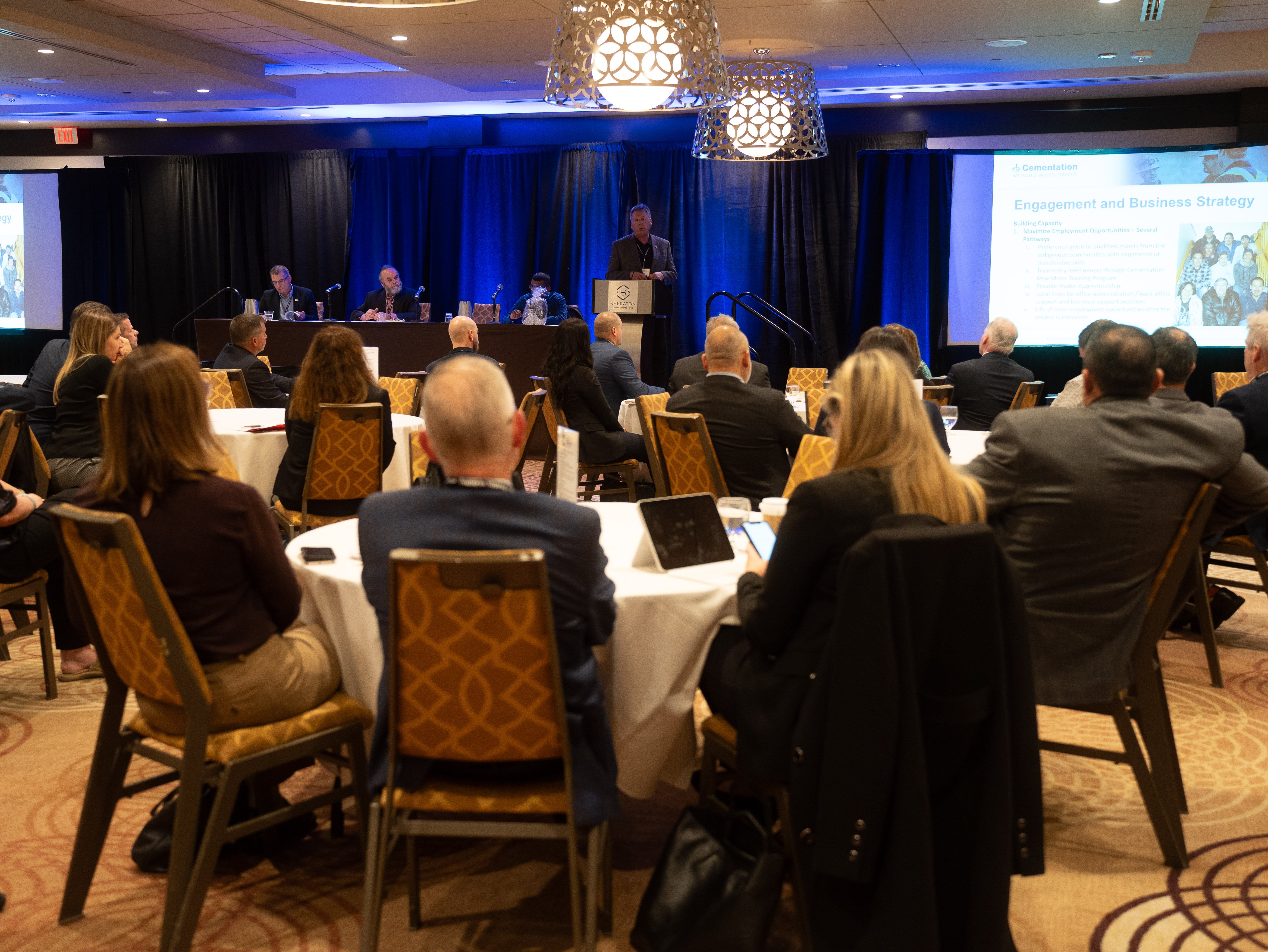 RockTalks - news worth spreading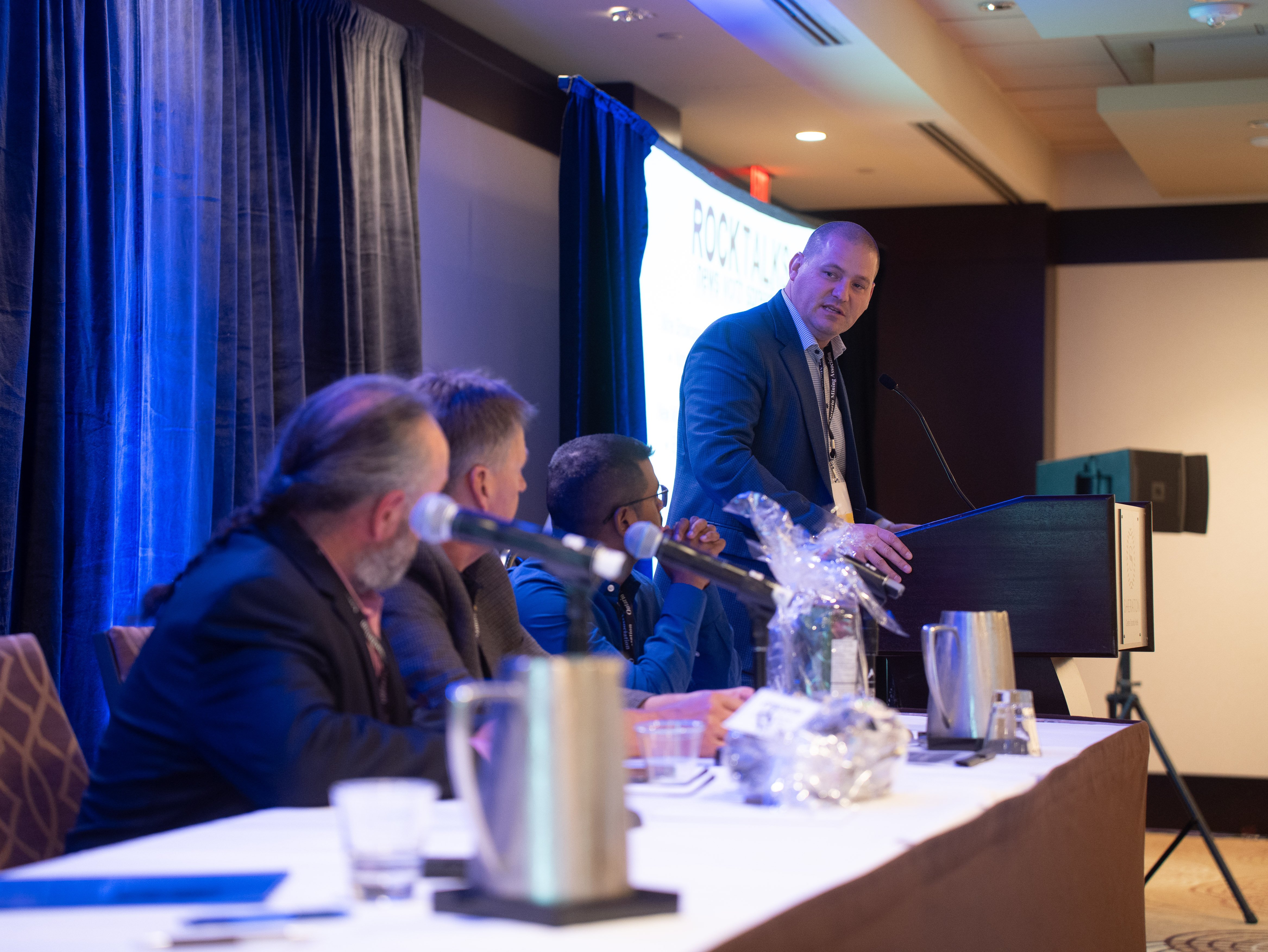 RockTalks presenters and Frank Demers
Small Modular Reactors, may be another means to help mining companies meet their climate change and ESG objectives, while producing electricity in a cost-effective manner. Chris Gully, Director of Communications at the Canadian Nuclear Association, moderated an expert panel discussion on the opportunities, challenges, and potential timelines associated with SMR deployment in Ontario's mining industry.
The criticality of a reliable, affordable, and clean electricity system to power the province and drive electrification came up again at a Minister's Panel hosted by Minister Pirie. Greg Rickford, Minister of Indigenous Affairs and Minister of Northern Development, stressed that an essential element of developing the North is moving away from "brittle energy infrastructure," putting an end to diesel generation by mining operations and remote communities, and building more robust, clean energy transmission in equal partnership with Indigenous communities. He discussed the importance of effective business relationships with Indigenous communities, and touched on the progress made by the Ministry of Indigenous Affairs on facilitating a "one-window" approach to consultation. He also highlighted the encouraging level of enrolment by Indigenous youth in internship programs that are providing them with a better understanding of career opportunities in mining. Minister Pirie also mentioned a number of government programs that aim to attract more people to the skilled trades, and other essential occupations for the sector. Graydon Smith, Minister of Natural Resources and Forestry, talked about his ministry's role in assisting communities and municipalities in the North to implement their vision of growth by enabling access to land needed for residential and commercial development. Likewise, Andrea Khanjin, Minister of the Environment, Conservation and Parks, talked about modernizing regulatory processes to enable responsible development, while ensuring that the environment is protected. She reiterated the government's commitment to investing in green initiatives to promote innovation and climate action. Each of the ministers on the panel reinforced the collaborative "whole government approach" and working with industry to solve complex issues affecting the competitiveness of the province and people's quality of life. Andrea Khanjin, Minister of the Environment, Conservation and Parks, called this the "team Ontario approach." OMA members applauded this approach and requested that Ontario's Critical Mineral Strategy be continually refreshed and kept current as a guiding document for building success.

The evening reception that followed these discussions was devoted to celebrating collaboration. In introducing Ontario's Premier Doug Ford to the assembled guests, Minister Pirie said, "He believes in the future, and the future is mining!" Premier Ford did, indeed, talk about the centrality of mining to the provincial economy and our ambition to be "the number one mining jurisdiction in the world," stressing that, while "the whole world wants our critical minerals, we have one ask – open your plants here." In describing the investments being made into shoring up a domestic mining-to-manufacturing supply chain, the Premier pointed out the challenge of ensuring we have the requisite workforce to turn our potential into reality. He promised that, "we will work with you to attract people to work in the sector." NDP MPP for Mushkegowuk—James Bay, Guy Bourgouin, who serves as the Opposition Critic for Mines, also expressed a willingness to collaborate, and brought up his own experience as a tradesman. Ted Hsu, the MPP for Kingston and the Liberal Party's Critic of Mines, recounted some recent initiatives, including discussions with the Queen's University Mining Engineering Department about what drives students to choose a career in mining, and commended OMA member companies for sponsoring successful robotics teams taking part in a student competition. Minister Pirie ended the formal part of the evening by thanking his fellow policy makers for attending Meet the Miners in such large numbers and engaging in positive relationship building.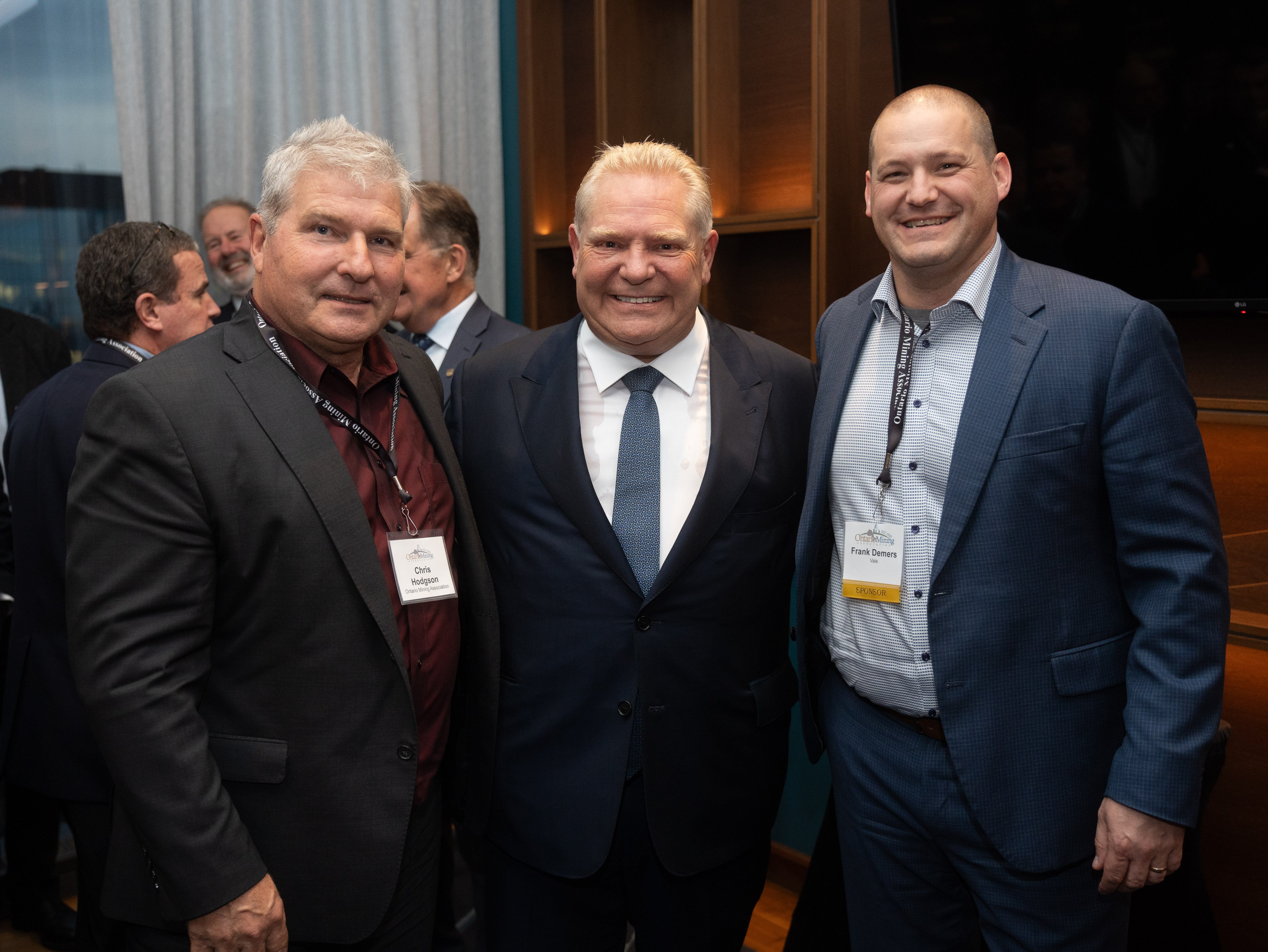 Chris Hodgson, Premier Doug Ford, Frank Demers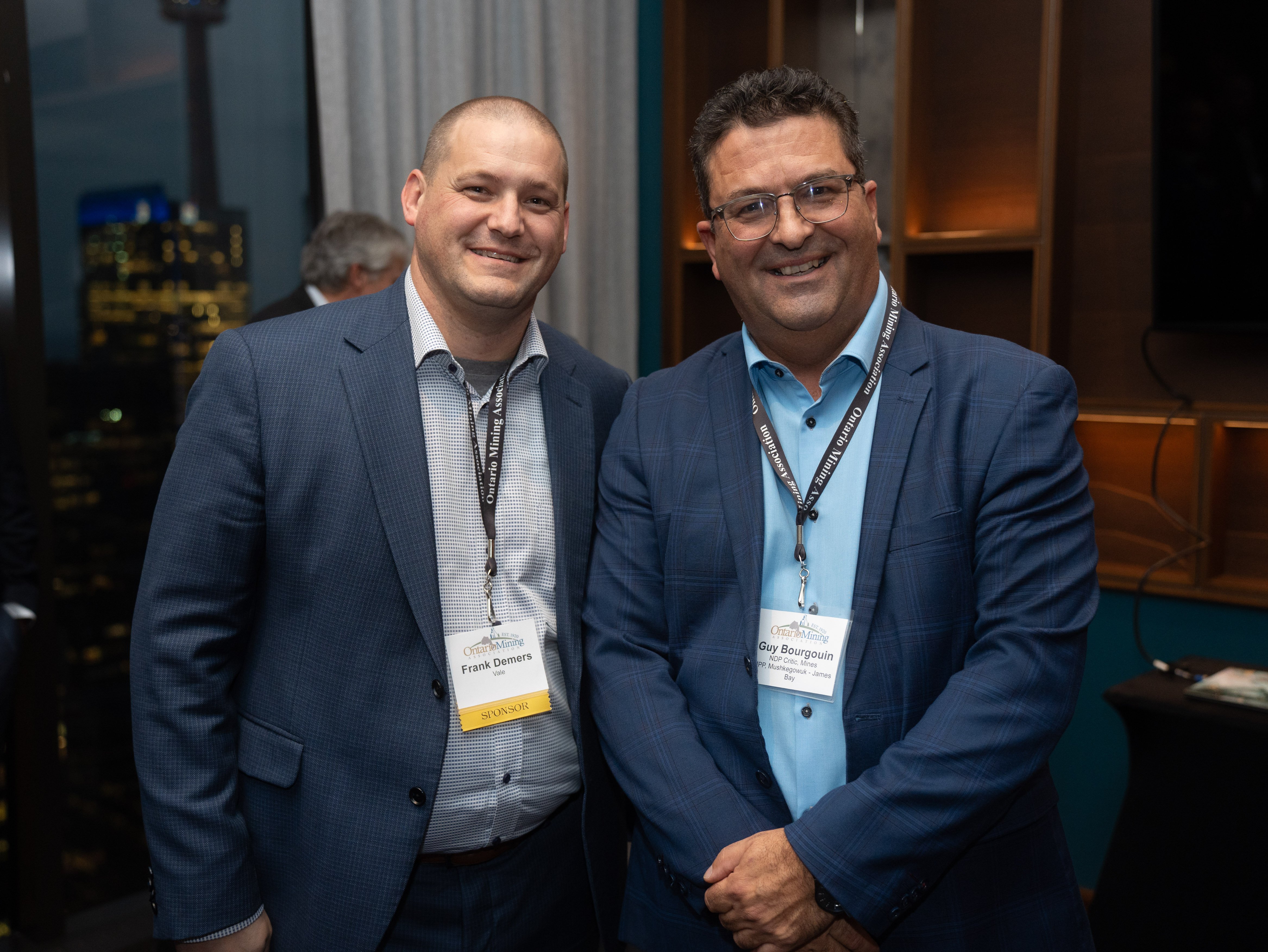 Frank Demers, Guy Bourgouin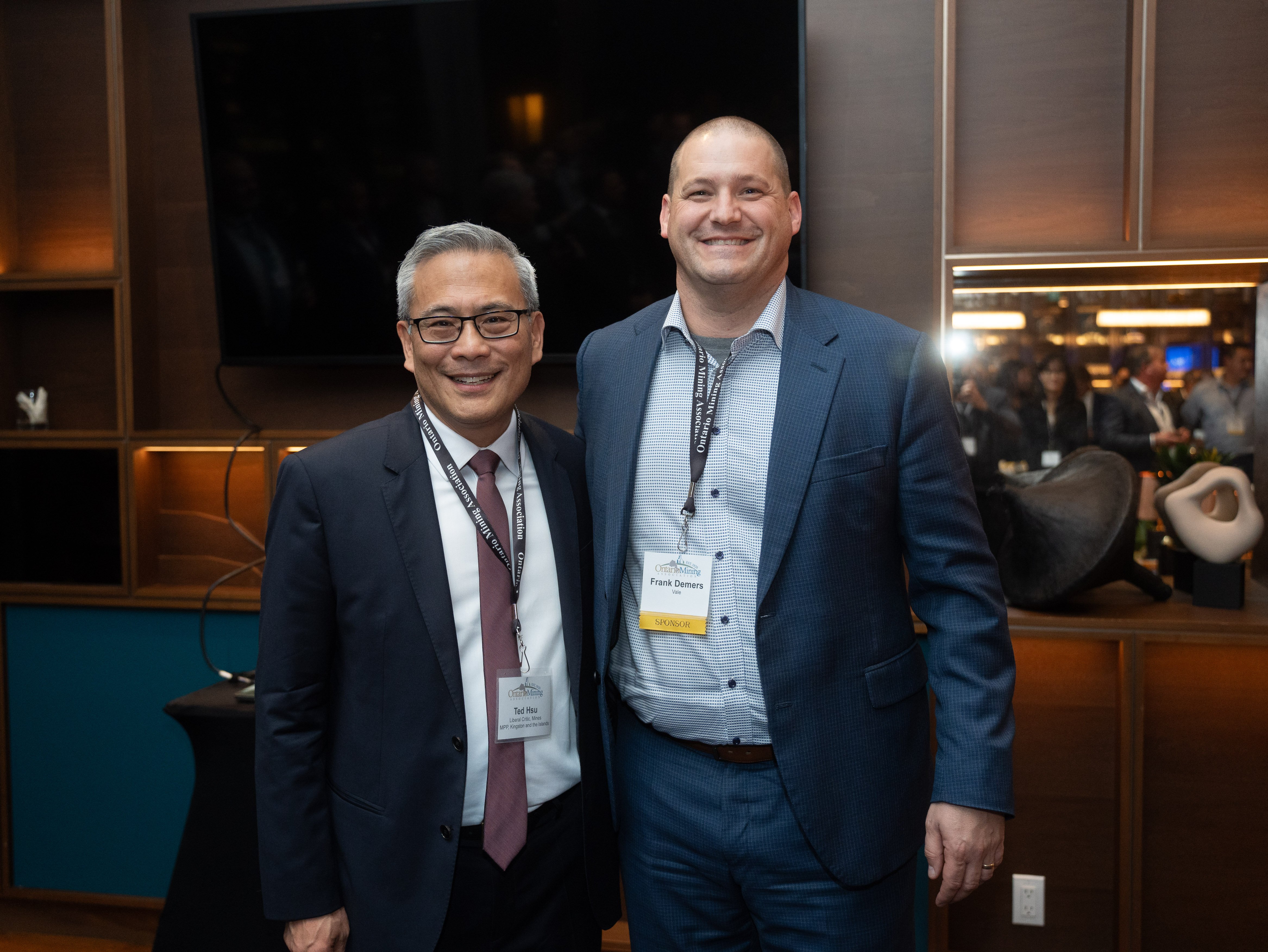 "This is why Meet the Miners is such an important event for us," said Frank Demers. "It is not just a venue for an exchange of ideas, but a chance to acknowledge and celebrate our respective contributions – all the work and dedication that goes towards making our collective lives better."
The OMA is grateful to everyone who contributed their specialized knowledge, technical expertise and mine life experiences, making important conversations happen at
Meet the Miners
2023.
A special thank you to our sponsors
!