OMA Welcomes Critical Minerals Focus in Throne Speech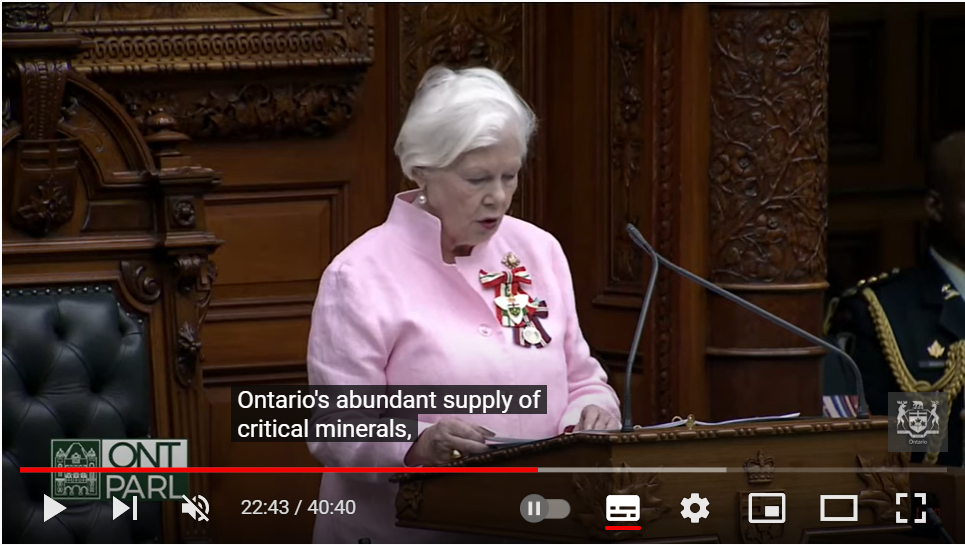 The Ontario government is "steadfast in its commitment to a path forward focused on economic growth", Premier Doug Ford's throne speech asserted, and singled out the "once-in-a-generation" opportunity of "building up home-grown supply chains" – from minerals to manufacturing.
Lt.-Gov. Elizabeth Dowdeswell delivered Premier Ford's speech from the throne on August 9, 2022, which marks the start of a new legislative session. The speech said the Progressive Conservative government is working on revitalizing auto manufacturing to meet global demand for low-carbon, environmentally-friendly technologies, with a focus on electric cars and mining for critical minerals, including nickel, cobalt and lithium, in Northern Ontario.
The speech made reference to the province's Critical Minerals Strategy, "a five-year blueprint to better connect mines and minerals in the north with the manufacturing might in the south, including Ontario's growing electric vehicle and battery manufacturing capacity." The Ontario Mining Association (OMA) provided substantive input on this strategy, working closely with the government's Critical Minerals Strategy Unit throughout the development process, and producing a comprehensive Critical Mineral Analysis, which outlines on a global scale several competitive advantages of Ontario's mining sector, including strong mineral endowment and exploration potential, and the ability to contribute to the transition to the green economy. We are grateful to our members for supporting this effort and providing valuable inputs into the research.
The throne speech pointed out that "the cornerstone of this strategy is found in the Ring of Fire," and noted that this project, which represents a "transformative opportunity for multi-generational development" requires "an unyielding commitment to partnership and cooperation." It highlighted the work the province is doing in collaboration with First Nations to complete environmental assessments and build roads that will link the Ring of Fire with the province's highway system. The government maintains that "this 'Corridor of Prosperity' will not only bring economic growth and opportunity to northern and First Nations communities, it will also unlock the full potential of Ontario's economy."
Although the government reiterated its commitment to continue cutting red tape, keeping taxes low and fostering "an environment that attracts global capital and [makes] targeted investments that strengthen Ontario's competitive advantage," it acknowledged that, "amidst growing uncertainty, the road ahead will not always be easy." Among the key challenges facing the province, the throne speech recognized a generational labour shortage - an issue raised by the OMA in our advocacy work. We are pleased to see that the province reaffirmed its commitment to invest more than $1 billion in a skilled trades strategy to encourage more people, in particular women and youth, to train for rewarding careers in skilled trades.
This is in line with the OMA's Mining for Talent strategy, which aims to build on our previous efforts to shift the perception of mining, spark interest in mining careers and connect people to employment in our sector. The goal is to diversify the labour pool by increasing the participation of women, immigrants, Indigenous people, youth, and workers from other industries who have transferable skills. We look forward to collaborating with the government and other partners to inspire and enable the workforce of tomorrow.
We consider the newly appointed Minister of Mines, George Pirie, to be an important champion in this regard. The former Timmins mayor, senior mining executive, and member of the OMA Board (2002-2004), is focused on achieving the goals set forth in the province's Critical Minerals Strategy and recognizes the urgent need to fill the talent gap, so as to boost the growth and innovation momentum in our dynamic sector. In a recent interview for Northern Ontario Business, he stressed that "we can't be green if we're not mining," amplifying OMA members' strengths and priorities. We look forward to working with Minister Pirie and his team to boost growth in Ontario's responsible mining sector, enabling us to continue contributing to the economic wellbeing of our province, while supporting the transition to a net-zero economy at home and abroad.