Ontario Mining Association Welcomes Agreement Between Ontario and First Nations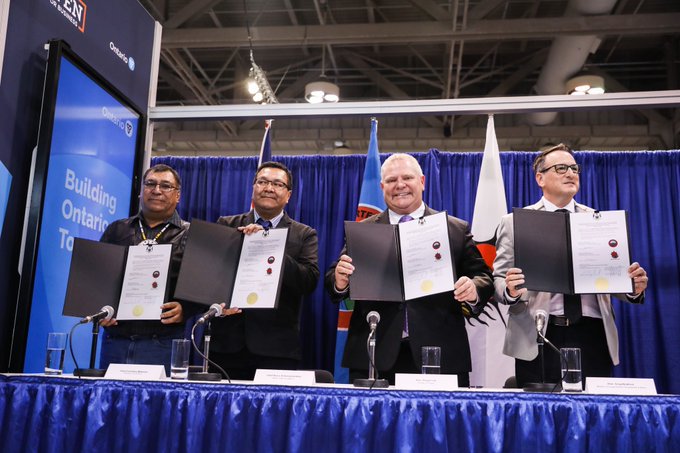 The Ontario Mining Association welcomes the news that the provincial government, Marten Falls First Nation and Webequie First Nation have entered into an agreement to advance planning and development of a proposed Northern Road Link that will provide reliable, all-season road access to mine sites in the Ring of Fire region and connect First Nation communities to Ontario's provincial highway network.
The partnership was announced today by Premier Doug Ford, Minister of Energy, Northern Development and Mines and Minister of Indigenous Affairs Greg Rickford, Marten Falls Chief Bruce Achneepineskum, and Webequie Chief Cornelius Wabasse during a signing ceremony at the Prospectors and Developers Association of Canada (PDAC) convention.
"The partnership marks an important step forward in unlocking jobs and opportunity in Northern Ontario," said OMA President Chris Hodgson, who was present at the ceremony. "We are pleased to see an agreement that enables local First Nations to decide where and how a much-needed road will be built on their traditional land. This is a constructive approach that ensures that interests are aligned and everyone benefits from mineral development in the region – a win-win proposition for local communities, industry and all Ontarians."
In addition to enabling mineral development, an all-season road will result in improvements to health and social services, high-speed Internet and cellular service for local communities.
Read the news release: https://news.ontario.ca/opo/en/2020/03/moving-forward-with-road-access-to-the-ring-of-fire.html