Teachers Go Underground to Unearth Valuable Knowledge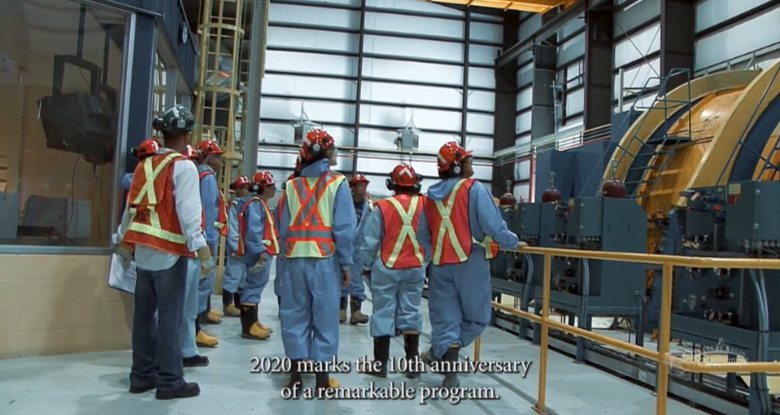 Video celebrates unique professional learning program for Canadian educators
Since 2010, the OMA has partnered with the Canadian Ecology Centre and Mining Matters to develop and deliver a professional learning program for Canadian educators, which provides enriching, experiential learning connected to science and geography curricula, with a focus on Earth science, modern mining, occupational health and safety, environmental stewardship and sustainability, and careers. The Mineral Resources and Mining Education Tours are sponsored by
OMA member companies
, some of which also participate in the program by offering access to their operations, including the rare opportunity to visit an underground mine, for one of several tours.
"The mining tours are designed to let teachers know what modern mining is all about and enable them to pass this knowledge on to their students," says Chris Hodgson, OMA President. "Ontario produces responsibly mined minerals that provide society with everyday essentials and are critical to the low carbon technologies necessary for a greener future. For young people who are ambitions, eager to take climate action, and push the boundaries of discovery and innovation to solve today's critical global issues, Ontario mining is the perfect place to build an impactful career."


Giving educators the unique opportunity to visit a mine, engage with industry professionals, and learn first-hand about various aspects of operations is vital to transferring to students a deeper understanding of the industry and the opportunities that it offers. According to Bill Steer, Founder and General Manager of the CEC and a driving force behind the program, "Seeing is believing. If it is not grown, it's mined. Making an informed decision is about awareness. Teachers, who are able to affect so many students over the course of a career, bring a fresh perspective on the four aspects of the tours – jobs/occupations, technology, the environment, and safety – back into their classrooms."
Hosted at the CEC and originally named The Mining Teacher Tours, the five-day-long, fully-sponsored program delivered by the talented team at Mining Matters, a charitable organization dedicated to bringing knowledge and awareness about Canada's geology and mineral resources to students, educators and the public, has engaged hundreds of teachers, and benefited from their valuable feedback.
"One of the most rewarding aspects of delivering this program is hearing back from the participants and being inspired by their insights and enthusiasm," says Lesley Hymers, Manager of Education and Outreach Programs at Mining Matters. "The program has evolved in response to the valuable feedback we've received and expanded to meet growing demand. It now consists of three tours at multiple mining camps, and is open to include teacher participants from across Canada, as well as Mineral Resource Development Advisers, learners from Indigenous communities, and other educators, including those from industry and informal educators."
Programming includes the Mineral Resources and Mining Education Foundations Tour, the Mine Life Cycle Tour and the Life in a Mining Camp Tour. Tour itineraries include presentations from industry professionals eager to share their career experiences, resource workshops, and visits to mine sites and mine manufacturing facilities. Teachers also learn about the wide range of educational resources and professionals available to support their efforts in the classroom.


Plans for the 2022 Tours are underway. August dates and locations will be announced soon.

Quick Facts and Figures:
To date, more than 300 Educators and Mineral Resource Development Advisors from Ontario, Quebec and Nunavut have participated in the Mineral Resources and Mining Education Tours program.
There are currently 41 active mining operations in Ontario that cover a diverse base of minerals, including precious and base metals, and non-metallic minerals.
Mining operations in Ontario contribute an estimated annual total of $7.5 billion to Ontario's GDP, $3.3 billion in wages and salaries, and sustain over 48,605 full-time equivalent jobs in the province via direct, indirect and induced channels.
Ontario is one of the safest mining jurisdictions in the world and mining is one of the safest industries in Ontario, achieving a 96% improvement in lost time injury frequency over 30 years.